Hope is Here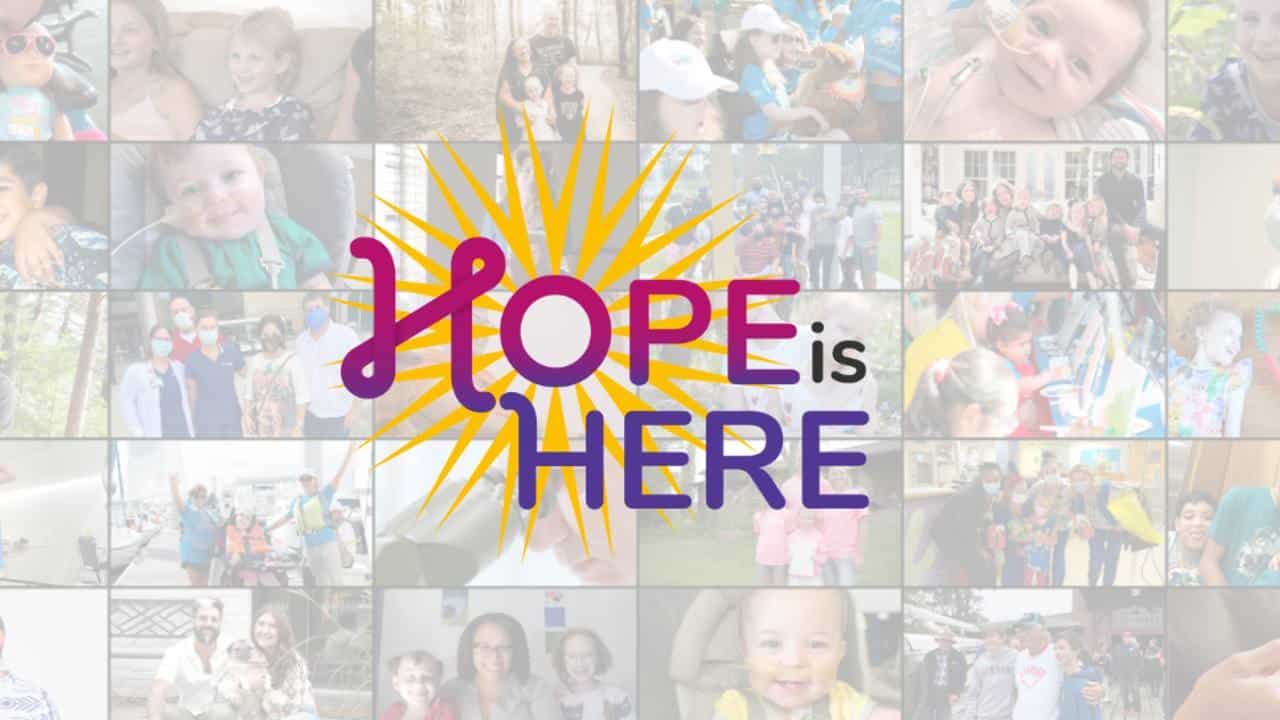 A Service of South Florida PBS
Saturdays at 5:30 PM on WXEL
Sundays at 11:30 AM on WPBT
Tuesdays at 6:30 PM on the Health Channel
Episode 10: A Mother's Love
Finding inspiration to fight cancer calls upon courage and an immense determination to soldier through the toughest days. This arduous journey also requires support and love from friends and family. Michael Cramer was gifted with all these necessary ingredients to forge ahead, not only from a family who loves him but especially from a mother whose encouragement strengthened her son through his darkest moments. Here is Michael's remarkable story about a mother's love, his undying resilience, and the important lessons he learned about giving back the gift of survival.
Children who are ventilator-dependent are limited in their ability to participate in sports and recreation. Enjoying childhood to its fullest is often not possible. Every year VACC Camp affords children on ventilators the chance to enjoy a stress-free day at the beach as they are supported by camp volunteers and the Miami Beach Fire and Rescue. This episode of Hope is Here interviews a participating doctor at Nicklaus Children's Hospital as well as a family that enjoys this special opportunity to see their child enjoy the beach for the first time.
Episode 8: Oliver's Story
Imagine being a child fighting cancer. Treatments, medications, and uncertainty fill your day. A boy named Oliver decided to face his disease and pain with fierce determination. Once strong again, he was filled with gratitude because of the love and support he received during his treatment. Yet it was a symbolic jacket that he wore during the days of his cancer treatments that inspired him to start his own organization designed to cheer up other children dealing with cancer around the United States. Hope is Here covers the selfless story of Oliver's Patch Project.
Episode 7: Working Towards Independence
Parents raise their children to ultimately achieve their independence. Yet removing barriers to attain the goal of independence is filled with great challenges for parents of children with special needs. Hope is Here focuses on a family, a very special foundation, and a Florida hospital system that is going to great lengths to empower individuals with intellectual disabilities with strength, confidence, and a sense of self-worth.
The path to healing can manifest in various ways. Meet Leonor, a resilient 7-year-old girl battling a highly uncommon form of cancer. Recognizing her need for inspiration and optimism, a heartwarming project was conceived. What could be more uplifting than a captivating melody born from the vivid imaginations of Leonor and her sister Dot, accompanied by the adorable and renowned Doug the Pug? In this episode of "Hope is Here," we witness the extraordinary convergence of a beloved canine, boundless creativity, and a compassionate community, all united to bestow upon a young girl a profound sense of hope for the future.
Episode 5: Finding the Light
Our youth and all the experiences that makeup one's childhood, good and bad, can affect the person we ultimately become. Yet we often have a choice in that destiny. Ana Viamonte Ros is a woman who confirms that although insurmountable challenges and negative experiences from the past can shape our future, hard work and a determined, healthy mindset can pave the way toward a gratifying life. Today Dr. Viamonte dedicates her life to helping patients strengthen their mental health and conquer childhood traumas while serving as living proof that perseverance and hope make dreams attainable.
Episode 4: Chicken Strong
A diagnosis of childhood cancer came as a shock to the Shoeneck family who found out about their daughter Kenedi's malignant tumor after an unexpected fall. This episode of Hope is Here proves the power of love and creativity as The Sing Me a Story Foundation pairs Kenedi and well-known songwriter Kat Perkins to create a happy and memorable tune that delivers hope, strength, and laughter to a family who needed a reason to smile.
Five decades ago, Lawrence Monk Terry was at the top of his game. In 1972 he won a silver medal with the U.S. rowing team at the 1972 Summer Olympics in Munich Germany. His position on the team was an important one. He served as the Stroke. That's the term for the one who sets the pace for the rest of the rowers. Since then, his life has been rowing along merrily. Just recently he was a fit and active retiree until an April day, after Monk was doing housework and decided it was time to come inside that his life would take a pause. What happened next would give a whole new meaning to his revered rowing position, The Stroke.
Episode 2: Little Braveheart
Early on in Rachel Collin's pregnancy, she was told there was a concern for her unborn child as doctors discovered her baby's heart was undeveloped. Soon hopes were dashed and worry set in as Rachel was told the future was uncertain for her baby boy. Hope is Here chronicles the first two years of Mikey Collins' life, who proved to be a brave little boy with an incredible will to live.
Episode 1: Daymara's Determination
"Daymara's Determination," shares the heartwarming story of Daymara's unexpected diagnosis with acute myeloid leukemia, a type of blood cancer. Despite the seemingly insurmountable challenge, Daymara persevered, and her determination to leave the hospital so she could be with her children again is what gave her hope and the ability to recover.
Hope is Here features inspiring and uplifting, relevant and refreshing, personal stories told by cancer survivors, their families, and the loved ones of those who lost the fight against this "emperor of all maladies" and sparked a movement that gives added meaning to their lives. Their moving stories show how the light of hope is salvaged from depths of despair.

Life can be full of hope and dreams. Lisa Briggs was enjoying a successful business, and a close-knit family while celebrating the arrival of her second child. Yet within months of giving birth Lisa got a devastating news; she had stage 4 lung cancer. For an athletic, young woman who never smoked, the diagnosis seemed unreal. After the shock wore off, Lisa went into full action ahead as she will to live proved stronger than her devastating cancer.
Emily Bennett Taylor and her husband Miles were newlyweds with a bright future planned. Just as they were house hunting and talking about raising a family Emily received the news that she had stage 4 lung cancer. She and her husband recall their cancer journey and recount their determination to live life to its fullest while fighting for the chance to have children despite a grave cancer diagnosis.
Gina Hollenbeck is positive about life. Every day she lives with an optimistic desire to overcome and thrive despite a stage 4 lung cancer diagnosis. As a young mother of two boys, she forges ahead towards a vibrant and meaningful journey with a mission to help find a cure for not only herself but for others who suffer from this deadly disease.
Hank Baskett was given the grim diagnosis of stage 4 lung cancer almost ten years ago. At the time his thoughts were not of himself but of how he was going to tell his family. In this episode we meet Hank and his family and learn how he was able to push forward towards health with a hopeful attitude and mission that his cancer journey would be, in his words, "a joyful one."
Lung cancer diagnoses for young, non-smoking individuals are a growing trend. But that didn't intimidate the athletic and courageous lung cancer patient, 21-year-old Jill Costello. Jill's fighting spirit and her desire to help find a cure and eradicate the stigma that only smokers contracted the disease would eventually define her legacy.
Episode 1: Bonnie's Story
At age 56, Bonnie was a wife, mother, grandmother, president of an oil company, and leader in breaking through the industry's glass ceiling. She also became one of the millions facing a 16% survival rate. Her initial prognosis was grim. Most doctors provided little hope, but Bonnie eventually found a thoracic surgeon willing to help, telling him, "If I am going to die from this disease, I don't want it to be because I did nothing!" After a 14-hour surgery and multiple rounds of chemotherapy and radiation, Bonnie became a survivor with a new purpose in life.